Miracle in New Zealand-This story was not
covered in the U.S. main stream news. So
take a look. Other
testimonies are
also listed.
At the bottom of the
pa
g
e
is a
recent scien
ce video showing that marijuana
is destroying
cancer cells- 2 1/2 minutes LONG

Watch the following video first, it's a short introduction to Homeopathy- 6 minutes. WHEN
THE FIRST VIDEO ENDS
THERE ARE SEVERAL MORE TO CHECK OUT...


A REAL MIRACLE IN NEW ZEALAND
Kimberly McNeill: Our miracle girl - Local News -
Hawke's Bay-
New Zealand Today
www.hawkesbaytoday.co.nz/local/.../kimberly-mcneill-our.../
39431... -
Cached -Block all www.hawkesbaytoday.co.nz results
Mar 5, 2011 – Doctors turned off her life support
7 weeks ago. Now Kimberly McNeill is walking, talking and singing.Kimberly McNeill returned
home
►
Parents refused to let daughter die
ELEANOR AINGE ROY

Parents refused to let daughter die by ELEANOR AINGE ROY
Last updated 05:00 03/07/2011

Like a koru unfolding: Kimberly McNeill, above
left with father James McNeill, mother Jackie
Kiddle, sister Elana and brother Daniel.

Miracle survivor Kimberly McNeill
owes her life to the love and determination of a mum and
dad who simply refused to let their

The Hawke's Bay teen's body was so broken in a horror car
crash six months ago, doctors turned
off her life support.
Kimberly, pictured above, had severe head
injuries, her pelvis was broken,vertebra fractured and 12 ribs shattered when she was taken to Auckland City Hospital.

Fifteen days after the December 27 accident,
where her car hit a power pole, she was given no chance of
recovery and life support was switched off. But dad James
mum Jackie Kiddle, both trained
acupuncturists, refused to
accept the prognosis and enlisted
a senior
Chinese medical
practitioner specializing in neurology, and a expert in Homeopathy.

"We decided very early on to give 110% to even
the smallest
chance of recovery," James told Sunday News.
They put together a treatment plan using
alternative therapies –
Chinese herbs, Acupuncture and Homeopathy.

The aim was to build up Kimberly's strength to
take her through the "crisis" period after her life support was switched off, on January 14.

With doctors' permission, Chinese herbs were fed through a
nasal-gastric tube and a senior acupuncturist worked on her.
James and Jackie
kept vigil for 72 hours straight, turning Kimberly constantly
and using homeopathic remedies to
keep the fluid trapped in her lungs from drowning her.

"She made a miraculous recovery," James said. "The doctors
were very pleased too, and said we could take
her home to Hawke's Bay.
When the Hawke's Bay [Hospital] team arrived, they
immediately hooked her back up on life support
and it was
like a dream, she just thrived from that time on."

Within days, Kimberly woke from her coma. It
was "like a koru unfurling," James said.

After a month in rehabilitation, the 18-year-old returned to her Havelock North home, and with constant support from family
and friends
continued her amazing recovery.

Kimberly finished occupational therapy a fortnight ago, two
months ahead of schedule. She has been out with friends, at
the gym and planning

She will begin studying religion and political
science next semester,and will enroll full-time
next year in double art degree at Auckland University.Kimberly
says she holds no
hard feelings against mainstream medicine,
despite her life support having been turned off.
But she says: "I think what doctors need
to know, is not
to solely read the book – they need to learn to read
the patient because everyone is different."

James says his biggest challenge now is learning
to let his daughter go.
"In lots of ways we've got a new, improved
version of our Kimberly.
"Now our issue is going to be learning how to
draw back, because full independence is the goal."
Recent UPDATE
Car crash survivor singing her way to good health
By Amy Shanks
5:30 AM Tuesday, Nov 29, 2011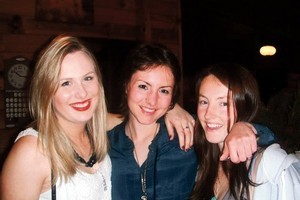 Almost 12 months after a car accident nearly robbed her of her life, Kimberly McNeill is tackling every day with a positive attitude.
She has a part-time job, dates with friends, plans to study and a new sense of clarity as to where she hopes to be at this time next year.
Kimberly, 19, was severely injured after her car hit a power pole last December near Havelock North.
She was put on life support and transferred to Auckland City Hospital. After 15 days, her doctors turned off the machine against her family's wishes.
Defying all odds, she pulled through and was transferred to Hawkes Bay Hospital to begin a long road to recovery.
Less than two months after being given a grim prognosis, Kimberly began walking and talking and was able to return to the Havelock North home of her parents James McNeill and Jackie Kiddle.
Now Kimberly is bright and bubbly as she reveals a passion for singing, which helped her through recovery.
"After the crash, I could hardly speak," she said. "I was so gutted about my voice, I did everything to get it back. Fitness, stomach strength, Chinese herbs, and acupuncture. Music has been a huge part of my life."
Kimberly also enlisted the help of voice coach Ursula Williams, who she had worked with for about three years before the accident.
Ms. Williams remembers meeting up with Kimberly just weeks after she was released from the hospital.
"All there was was air, like a whisper, a husky sound. We just worked to eliminate that air with technique, and tried to get that tone to come through," Ms. Williams said.
At the time it seemed progress was slow, but looking back, Kimberly achieved a lot in a short time.
"Since the accident she has been more determined than ever," Ms. Williams said.
"It's purely positive, she works so hard when she's in lessons with me, she's so focused."
Kimberly's voice has gained in strength and clarity each week.
"She surprises herself sometimes. I don't know if her voice will sound like it did before, but I believe it will be just as good. Her voice is changing, it has a different tone, but that's not a bad thing," the voice coach said.
Singing and guitar lessons are part of the teenager's weekly ritual and have taken her a long way towards setting and achieving goals.
Asked if there was ever a time when she felt like giving up, or putting music in the too-hard basket, Kimberly said: "Never, I would never be happy without my singing."
All the lessons and countless hours of practice have been working towards the final aim of securing a place at the Music and Audio Institute of New Zealand (Mainz) next year.
Kimberly hopes to enrol in a two-year contemporary music performance course and was in Auckland last week for an audition with Mainz.
"I just want to meet other people my age who are passionate about making music," she said.
It is a change from the path she would have taken, had fate not thrown her a curve ball.
"I was going to go to Auckland University of Technology, but I didn't because of the crash, and I can't imagine being at AUT now."
While she waits to hear what next year will bring, Kimberly continues to sing, work and catch up with friends.
"I am working in an orchard thinning apple trees, but I have a job lined up at [clothing store] Guilty as Sin in Napier," she says.
"Time is precious in my world, I have got so much on, especially catching up with friends."
Also on her agenda is a live performance at Hawkes Bay's HBS Bank Christmas at the Park on December 10.
"I am not nervous about it, I'm more excited.
"I'm just so proud, I didn't have a voice at the start and now I do. It was all I wanted."
Kimberly will be performing an original song titled Here I Am as well as something to get people in the holiday spirit. "Dad and I wrote a tune called Christmas Time," she said.
Kimberly's guitar teacher Jason Alexander put her name forward for the event.
Major, minor,
common and
uncommon
health problems...
resolved for pennies!
Dear Health-Conscious Friend,
Safe, effective, cheap remedies for what ails you have been
kept from you for years.
If you knew about them, you'd:
resolve major, minor, common and uncommon health problems
—
for pennies — often in less time than it takes to
get an appointment
with your doctor...
toss your expensive prescription drugs and free yourself from
the fear of their often-dangerous side effects...
save yourself a fortune on cholesterol lowering medication, on
pain pills,on sleeping pills, on
blood pressure drugs...
get nearly instant relief from heart attacks,
arthritis, ulcers, energy loss, migraines, chronic bronchitis, even chronic depression...
Look at the case files in this letter. They will
astound you.


But first, let me make one thing clear.

"Miracles" Are Not Rare

When — time after time, case after case — rapid natural
solutions occur where conventional
medicine fails, is it really a miracle?
Or is the natural solution simply a wiser way to
take care of yourself and the ones you love?

You're about to discover that poor health can be restored —
quickly and cheaply — regardless of what might be troubling
you. And regardless of
how long you may have been suffering!

Your doctor might see the cases I'm going to tell you about as
rare miracles, but these so-called natural miracles have been clinically proven and reported in professional journals, including
the British Medical Journal, The Lancet, American Journal of
Pain Management, Phlebology,
Archives of Otolaryngology, Pediatrics and a host
of other highly authoritative professional publications.

And still, most doctors on our shores are clueless. They keep
feeding you expensive prescription
drugs without caring what happens to your pocketbook. And, in many cases, they expect
you to be on those drugs for the rest of your life... regardless
of the side effects.

The Homeopathic remedies available to you are often about a
penny a dose. They are much more effective than big drug company products, and without question far safer.
But you've been kept in the dark, my friend. No one's telling
you how inexpensive excellent health can be.

One reason for this:
Dumfounded Doctors Can't Explain
How These Patients Were Treated...
For Pennies!


CASE #0244
A young man was advised by, his doctor to get a kidney
transplant. After just three months of a "miracle" remedy,
his doctor didn't know about,
this young man is fine.
No transplant required. Not only was
his health saved, so was his bank account.

CASE #23460
An older man suffering severe memory problems slept most
of the day and was angry and hostile when awake.
Alzheimer's Disease was his diagnosis. He was
given a "miracle" remedy on a Tuesday and all
symptoms were gone by Saturday.

CASE #9154
A man with Lyme disease, skin problems and severe muscular
pain was confined to a
wheelchair. One short week after receiving his "miracle" remedy,
his pain vanished, his skin problem cleared, and he
kicked his wheelchair aside and took a trip
overseas to celebrate.

Those three cases, as diverse as they might seem, were all successful in a flash, and all of them had
a price tag of next to nothing.There's one other
critical factor each of them has
in common. Each patient was treated with homeopathic
remedies.
The Quiet Holy Grail
of Health

If you don't know what homeopathic remedies
are, you're not alone. If you lived overseas, you'd know.
But here on our shores, homeopathy
is the quiet Holy Grail of Health. Doctors
— and certainly big drug companies — welcome silence on the subject.

I say it's time to break the silence. Your health
and well-being are far too important to fall victim
to this silence.I am on a mission to open your
eyes and ears so that you too may benefit.

Let me tell you how homeopathic remedies
compare to the prescription
drugs that saturate our society. Then you can
decide for yourself if what I have to say makes sense to you.
Prescribed drugs — conventional medicines —
are concentrated doses of chemicals. Most every prescribed
drug comes with a long list of side
effects, and many times the side effects are worse than the
condition being treated.

Homeopathic remedies, on the other hand, use highly diluted
herbs, minerals, and organic
extracts. Everything is natural. And most homeopathic remedies don't have any side effects at all.
Where prescription drugs normally must be taken for a long
time (at great expense to you)...

Homeopathic remedies are often taken just once. Sometimes
just one tiny pill is required.
And that pill often costs less than a dollar or two.

Pharmaceuticals are intended to suppress symptoms, but...

Homeopathic remedies are designed to cure the conditions that cause the symptoms —
remarkably fast.Patients Deemed "Hopeless"

Now Speak Up
"25 years of painful Migraines ended!"
"I suffered from migraine headaches for 25
years. I sought medical treatment from many
physicians. Unfortunately, nothing seemed to
relieve the frequent pain of migraines. I was
treated with "natural" means, and finally found a successful
mode of treatment. The treatment was safe and effective. It
is the first time I have been headache-free in 25 years."

–– Sandra K
Percentage of
"Conventional" Doctors Referring Their Patients
to Homeopathic Remedies
French Doctors 30%
German Doctors 20%
British Doctors 40%
Dutch Doctors 45%

Many profit-hungry drug company medicines are new and
have not been tested for long-term
effects.

Homeopathic remedies have been in use for more than 200
years. We know the long-term
impact!

England's Royalty
Depends On It

Would the Queen of England settle for anything
less than the best?
Well, the personal
physician to England's Queen Elizabeth II was a homeopathic
doctor.


King George V was treated for seasickness with homeopathic remedies in the 1930s,
and they worked so quickly and completely that most every
member of the royal family became devotees right then and
there.

The Dukes of Edinburgh and Beauford, along with the Duchess
of Cambridge and her
household rely on these treatments.

The Prince of Wales and many other members of royalty
continue to embrace homeopathic
remedies. And you'd better believe they demand and get
the best medical advice.
500 Million Now Receiving Homeopathic
Treatment


Forty-two percent of England's doctors refer their tough
cases to homeopathic healers. And
by "tough" I mean cases that seem hopeless and cases
conventional doctors just can't define,
let alone cure.

Throughout Europe, homeopathic remedies are
used by a third of the population. Worldwide, homeopathy is one
of the four major healing systems, ranking second in popularity.
Worldwide, more than 500 million people are receiving
homeopathic treatment. But on our
shores, homeopathic treatment, and the miracles
it can
perform is still being kept from you.
Until now, that is.
Percentage of

Population Now Getting "Miracle" Cures With Homeopathic
Treatment
Millions of people in all parts of the world are
finding relief
using homeopathic remedies.
Many use these miracle treatments as an
alternative or complement
to conventional medicine.
But in India, more than 100 million people use homeopathic remedies
exclusively!

Belgium 5.8%
Denmark 28 %
France 32 %
Netherlands 31 %
Sweden 15 %
U.K. 16 %
U.S.A. %

The table above shows you how many people in countries
most like the United States rely on homeopathic treatments.
As you can see for yourself, most people living in the United
States are not being told about the miracles of homeopathic
medicine. If they only knew how safe,
effective and inexpensive homeopathic remedies are, many healthcare problems would be solved.


I am here to open the gates of miraculous
health to you... with safe, effective
and cheap (often a penny a pill) remedies that
have been clinically proven for centuries to
successfully treat major, minor, common, uncommon,
hopeless and undefined health problems
that stump most American doctors.

CASE #7703
A 50-year-old woman was told by her doctors that she was
dying. Terminal cancer, she was
told, had progressed to the point of no return.
She was bedridden, unable to eat, and had an
abdomen swollen to the size of a football. This patient took
three remedies and the abdominal
swelling deflated. She can eat now. And she's walking one and
a half miles into town.

CASE #0767
A 75-year-old man was suffering from ulcerative colitis.
This problem was causing him
tremendous discomfort, sending him to the bathroom
10 to 15 times a day for bowel
movements. He was finally treated with a homeopathic
remedy, and after just 18 months,
his colonoscopy was normal.

CASE #10252
A woman suffered constant pain from fibromyalgia for nearly 18 years.
She also suffered migraines 3 times a week like clockwork.
She tried everything over those 18
years for relief, including vitamin therapy.
Nothing worked until she underwent 4 months of homeopathic treatment. Now the migraines are gone. Pain from fibromyalgia was cut in half, and only occasionally
presents a problem.
Doctors admit,


"... results came as a surprise to us."

In 1991, three professors of medicine from the Netherlands performed an analysis of 25 years
of clinical studies using homeopathic medicines
and published their results in the British
Medical Journal.

Their analysis covered 107 controlled trials, of
which 81 (76%) showed that homeopathic
medicines were effective, 24 (22%) were
somewhat effective or ineffective, and 2 trials
(1.8%) were inconclusive.

The professors concluded, "a number of positive results
came as a surprise to us."
They found indisputable evidence for successful treatment of respiratory and other infections,
diseases of the digestive system, hay fever, rheumatological
disease, mental or psychological
problems, and other ailments.

In addition, they found convincing evidence that homeopathic treatment helped patients recover after abdominal surgery
and to address pain or
trauma. You'll be surprised, too!

Homeopathy is the second most widely used
system of medicine in the world. It's safe,
surprisingly cheap, and effective.
In the United States, where the influence of big drug
companies have its strongest grip, the
success of homeopathy cannot be ignored.


Even with the self-serving influence of big drug companies
polluting our healthcare system, homeopathy popularity is
growing...
growing 25% to 50% in the last decade.


You need not stay in the dark any longer. I am Helen Martyre.
I am the publisher of a private advisory called Homeopathic
Healing Miracles.
Subscribe to my private advisory
today and be delightfully surprised in discovering:

"Homeopathic remedies are often taken
just once. Sometimes
just one tiny pill
is required. "

No matter how many symptoms you might experience, you
could only need one unique
homeopathic remedy — not a host of expensive prescriptions.
You see, that one remedy
is holistic and will be aimed at all your symptoms
at once.

Unlike so many prescription drugs, homeopathic remedies
are not addictive. Relief is often
experienced with just one dose, as long as the remedy you
take is the right one for you.I help you make sure your
remedies are correct.

Homeopathic remedies work in harmony with
your immune system.


Conventional medicines,
even over-the-counter drugs, often suppress your immune
system. Cough medicine, for instance, suppresses your
natural reflex to a cough, which
is your body's attempt to clear your lungs.
Homeopathic remedies could clear the problem
that causes your coughing.

Even babies and pregnant women can use homeopathy
without the dangerous threat of side
effects. That's how safe it is!
However, there is a catch. Actually, there are two.


The first catch is determining the right
homeopathic remedy.
The second is obtaining it.
But these two "catches" need not concern you. That's why I
have a private advisory —
to free you from those two catches.

Let me explain.

Personalizing your remedy

Subscribe to Homeopathic Healing Miracles, and
you could learn how to identify ALL your
symptoms. Let me tell you why this is important.

The better you can identify your symptoms —
all of them —
the better your remedy.
Homeopathic remedies are personalized to you.

For example, if you have a headache, it's not enough just to
say "my head hurts." There
is no such thing as a standard homeopathic headache remedy.
For you to experience the
true miracles of healing, you must identify exactly where your
headache is located. Is the
pain located in the front of your head, back, side?

Also, it's important to recognize what makes you feel better or worse.
Does your headache
seem less severe when you lie down in bed? Does cold help
or hurt?
Even your moods come into play. As a subscriber, you could
fast become the expert at pinpointing
all your physical and mental symptoms, so that
your remedies
are personalized and highly
effective for you, specifically.

Obtaining the right treatment
This second "catch" traps so many. As you might imagine,
homeopathic remedies cover a
wide range. In fact, if you were to go online and
do a Google search for
"homeopathic remedies," you'd discover more
than 1,240,000 sources.

But when you are a subscriber to Homeopathic Healing
Miracles, I'm right there with you,
guiding you to the most reputable sources.

Patients Deemed "Hopeless" Now Speak Up

"Irritable Bowel Calms Down"
"...IBS symptoms have subsided. My overall
health is better.
At age 79, it is lucky for me to find someone who treats the
whole person."
— Rose J.

Patients
Deemed "Hopeless"
Now Speak Up
"Went from
Chronic Fatigue
to Energy All Day"

"I already had chronic fatigue at age 18. I've been tested
over the years for anemia,
diabetes, and thyroid disease, but I do not have
any of these problems.
I've been trying many alternative therapies,
including acupuncture, Reiki and Feldenfrais. I
had just about
accepted being tired as my natural condition
when I was told my
adrenals were low and probably causing my
fatigue. This was news.
I'm taking the supplements she recommends
— and I am getting better! I have energy all day without
the sudden
brain fog and sleepiness.
I can say I've gotten much more than I expected from
naturopathic (homeopathic) medicine."
— Susan B.
Homeopathy: by David Cleveland
Homeopathic Case Histories.
*Carol and her respiratory problems. Carol was 25 when she
first had chest infections
that invariably turned into pneumonia or bronchitis.
She complained of being constantly
on antibiotics, and of being well for only ten days out of the
month. She was in a vicious
cycle of taking antibiotics. She kept complaining to her
doctors but they repeatedly told her
that most of her problems were caused by her mental state.
The doctors had her hospitalized
as a psychotic, because of her many complaints
and her
general depression.

Her mother refused to accept the fact that Carol (then a child)
was sick, and so Carol reacted,
by suppressing her complaints from her family,
until she
started passing out during forced
shopping trips. The patient stated in her letter to me. . .

In fact often as a teenager, I was in so much pain that I
went to bed completely convinced
that I would not wake up in the morning, I felt so sick-- I got
as far as writing letters of goodbye
but never told anyone of feeling bad . . . In the space of an
hour I can go from being jovial and
full of life too suicidal, and it still happens often. Today as an
adult these infections still ruin my
life. I cannot hold a job. I cannot go to school . . .
It may seem
amazing and irresponsible that
I have hardly gone to doctors for the last ten years for this,
but I have found them unable to
hear me, and generally send me back to psychiatrists.
(Client's letter, 1970)

The author agreed to work with her, and did a
three and
½ hour evaluation, suggested some
months worth of individualized remedies, and
asked her to
return in four weeks. She didn't
return however. A short note arrived in the mail about three
months later, and read:

I wanted to write and tell you of the miracle you have worked
on my health . . . About once a
month I have a faint recurrence of infection, and
I take a 1/4 teaspoon
of remedy and no more
illness. The bronchitis is completely under
control! My life is
very, very different not to be on
antibiotics all the time, and I am supremely happy and forever grateful.
Thank you very much!

*Two year old's seizures. Carla wrote me with her sons health
report.
Her letter told of an acute problem she'd had with her
2-year-old son.

When my son, Damon was about two years old he suddenly
started
having choking seizures
which lasted several minutes and then he would
be fine. One was so violent that I took him to
the emergency ward of a hospital, thinking something was
stuck in his throat. They advised
me to have him checked by his pediatrician as
there was nothing lodged in his throat.

She took him to the pediatrician she had used
since Damon
was born. This doctor found what the emergency room did not.
. . . He diagnosed Damon as having a swollen epiglottis and
told me that it was sealing over his windpipe, obstructing his breathing
and that it would climax within the next 24 hours,
at which
point Damon would not be able to breathe at all
and there
existed the possibility of performing
a tracheotomy should this happen.

The pediatrician suggested immediate antibiotics and
hospitalization.
Damon's mother however, has always sought Western
medicine
diagnoses and then followed it with alternative approaches to healing.

I attempted to get in touch with my acupuncturist but was
unable to and then through a friend
I got in touch with David Cleveland, who gave
me two
remedies, (Arnica and
Carbo Vegetabalis [sic]) , (diluted charcoal) to
use for Damon
if he had more choking seizures during the night.

That evening my husband and I, under Dr. Smiths and
David Cleveland's careful instructions,
kept constant watch over Damon as he slept. His breathing
was labored but he slept through until 3 a.m. in
the morning
when he suddenly awoke, reached out for me and cried
"mommy"
and fell back against the bed. He was having
great difficulty in breathing.

I had a moment of
great indecision to wake my husband and get Damon into the
car and take him to the nearest
hospital, less than a ten minute drive away or run
to the
kitchen for the Homeopathic remedies
that had been prepared earlier for such an emergency. I
decided that the remedies were
closest and administered them to Damon's
mouth . . .

He stirred when the first dose of Arnica
was administered, gasped and started to cry.
With his gasp
and cry, his breath returned.
Soon his breathing was normal, after repeated doses of the
two remedies, he was calm and fell
into a deep sleep. His breathing was not as
labored as before. This was the last attack
Damon
had, and he has not suffered from this again. Damon has
been better since that evening I
administered the remedies and he is now five
years old, and has had no recurrence.

*Kienbach's disease & a university professor.

Janet sent this letter in 1990.
Herewith is my account of my Kienbach's disease episode.
In the early spring of 1987
I sprained my wrist (right wrist); it was splinted,
but the pain continued
with considerable severity throughout the
summer
and into the autumn. X-rays on several occasions revealed
no break, but some evidence of Kienbach's
disease: the deprivation of
blood to a small wrist bone, resulting in its slow death.

Harvard Community Health Plan, (a local Health maintenance
organization), referred me to their excellent orthopedic hand
and wrist specialist. He confirmed the Kienbach's diagnosis
after additional nuclear scans and an M.R.I. scan, Keinbach's
can sometimes be controlled through an
operation, facilitating
the blood flow to the affected bone, but my configuration was
not appropriate for such treatment.

Finally, frustration with pain and with the
stupefying effects of
pain killers, led me to seek advice with David Cleveland who
had cured my migraines some years before.
After some weeks of remedies from David Cleveland,
they scheduled me for
another 'M.R.I' scan (Magnetic resonance imaging, costing
about $2,000. per session). I had not informed
Dr. Smith of my 'alternative treatment.

The technicians and Dr. Smith were surprised to
find the
evidence of Kienbach's -- a shadow
indicating a dead or dying bone-- considerably diminished.
The pain had diminished to the point
of vanishing altogether.

Dr. Smith was quite baffled, but
cheered; he said my wrist was not
"normal" and that we should "keep an eye on it," but that
for the time being it seemed fine--
which it was.

Since then I have had no recurrence of pain.
My only caution involves tennis:
I wear a small wrist brace to protect the bone against undo
shocks.
So far, so good: a happy
ending (patient letter, 1984).

*Fourteen year old's progressive blindness.

Craig was fifteen and came from a large family,
and when it
meant Craig's coming to Cambridge
to see me, the entire family arrived to support
him. The
condition he was suffering from was a
form of retinitis. The surgeon had told the boy
that he would
be blind in both eyes within six
weeks and that even surgery would not be helpful and
perhaps even dangerous to do. So it was
with this ultimatum that I evaluated his case and gave him
the first set of remedies. It really wasn't
until after the second set of remedies that the results came
in and in his surgeon's own words.
"I have never seen this happen before. All of the mucous
built up behind the eye, causing the separation,
is gone."

One interesting symptom of Craig's case was
that he was
very apathetic to what was happening
in his life. Of interest also, were two other
persons that I have seen
with retinitis. Both of them displayed apathy as a mind
state. Using 'apathy' as one of the outstanding mind
symptoms for
these people, I was able to find remedies that fit Craig.

Craig still has his eyesight today and is using it
now in college.

The folk singer's tumor.

*At age 28, she came to see me with a
diagnosed tumor on
her vocal cords. The doctors
wanted to operate on it immediately, at great
risk to her
singing career of course. She had
two visits about a week apart, during which the tumor was
shrunk, disappearing totally within
some months time.

*Gangrenous leg of 23 year old. She told me that she was in
Mexico
buying and selling drugs,
with her boyfriend, when the panel truck they
were riding in
turned over, pinning her leg under
a part of the truck. Her parents paid to have her flown to a Californian
Hospital where her leg
became infected and became continually worse. When this
occurred
the parents (local politicians)
had her flown to a well known Boston hospital.
She laid in
their bed for another couple weeks,
with no improvement, while continuing to take massive
amounts of antibiotic drugs. Her girlfriend
(a current patient), after learning that the
doctors wanted to amputate
her entire left leg, called me
and asked if I would help. I responded with "She wasn't a
patient of mine." Her girlfriend, however,
was forceful enough to convince me.

I decided to do the right thing, after all the girl
was only 23.
I saw her twice, each time suggesting different treatments
of her infection. Her hospital doctors' saw an immediate
change in her blood
count, and it became day to day healing after that. She
walked out of the hospital, using crutches,
three weeks later, with her leg!

*Crohns' disease and Mandy. Mandy was
suffering from
Crohns' Disease and was having
continual bleeding and pains in her abdomen.
This bleeding stopped
within three days of taking
the remedies and the pains in the abdominal area left shortly afterwards.

She had been suffering
from her condition for more than seven years.
Later, she
confided in me, that the change in her condition occurred
much to the amazement of her doctor.

*Vanessa suffered from a neurological condition.
Vanessa, needed to be in the best of possible
health for her
many clients. Yet after contracting a
virus she was unable to lift her head up anymore. Because
of pain and weakness, she had to
allow her head to lean heavily toward the right shoulder.
In less than a month after taking the
remedies there was improvement and after
visiting her recently, she was found to have completely
recovered
from her condition.

. . . We will stop talking about "well-behaved cancers"
and "weak viruses" and look at people who
are fighting these illnesses. (Siegel 1986 VI.)

Ongoing Research in Homeopathy

If the supposed seeker after truth is not willing to seek truth
where it is to be found, namely in experience,
then he may
leave it undiscovered; he cannot find it in the multiplication
tables.
(Samuel Hahnemann, 1825 in Haehl 1970, 418)

Change in all fields are occurring daily, the possibility for great
paradigm change exists. The next chapter will examine the reluctance
to accept paradigm change, as it is occurring in
health care. It states that society needs to take those leaps of
understanding that will develop a society that has matured
enough to take command of this coming age.

Homeopathy is shown as part of the paradigm
shift that is
already occurring.

"Each man here below works according to the gifts
and
strength Providence has given him,
and it is only before the fallible tribunal of man that degrees
of merit are acknowledged, not so
before that of God: God owes me nothing, but I owe
him much--yes, everything".

(Hahnemanns' dying words to his wife,
Dudgeon 1854 introduction



































SURVIVING EVERYTHING, YOU HAVE TO TAKE THE TIME AND READ THE INFORMATION THOUGH. 2 YEARS IN THE MAKING. VIDEOS ON CHILD-BIRTHING AND EVERYTHING ELSE . . .NUCLEAR DISASTERS PLANET SELF DESTRUCTION,PLANTING AND GROWING FOOD, PLANNING AND CHECKLISTS,POISONOUS PLANTS, POISONOUS LIZARDS, POISONOUS SNAKES WITH PICTURES, PREPARATION NEEDS, QUACK-BUSTERS LOOSE IN COURT, RADIATION SOS, U. ARMY SURVIVAL MANUAL, U.S.. AIR FORCE SURVIVAL MANUAL, PROFESSIONAL RADIO COMMUNICATIONS,RADIOLOGY 101, RADIATION PREVENTION AND TREATMENT, RADIATION ANTIDOTE, RADIATION MONITORING, WORLD RADIATION, 19 EMERGENCY ITEMS, SHELTERS, SIGNALING,CONTACT US, DR BURZYNSKI UNIQUE CANCER TREATMENT WINS IN COURT CASE WITH DRUG COMPANIES, DR HAHNEMANN FOUNDER OF HOMEOPATHY, HOMEOPATHY HOME, HOMEOPATHIC FIRST AID, POISONING EMERGENCY, DANA ULLMAN, HOMEOPATHIC THESIS,MIRACLE IN NEW ZEALAND, HOMEOPATHY AND NANO-NANO,LESSONS IN SMALLNESS,,HERBAL PLANT USE, EATING HERBAL PLANTS, HERBAL PLANT PICTURES,HOMEOPATHIC PHARMACIES, SUICIDAL HELP, TONY ROBBINS HEALING SEMINARS,, NUTRITION, F.D.A. AND DEADLY DRUGS, DRUGS AND DEATH, 1000'S OF MEDICAL BOOKS TO READ IN THE FIELD,PEARLTREES SITE, 911 SURVIVAL PAGES, D.M.S.O. READINGS, MAGNESIUM CHLORIDE READINGS, POTASSIUM IODIDE ORDERING,,NUCLEAR CHEMISTRY, FIGHTING NUCLEAR POWER, CIVILIAN RADIATION MONITORING, FUKASHIMA RADIATION MONITORING,TEPCO AND FUKASHIMA, MICHAEL MOORE AND SICKO, ANATOMY 901, ANIMAL NUTRITION, ANIMAL (PET) SURVIVAL, UNDERSTANDING BINOCULARS,BLOOD DONATION-THE JOKES ON YOU, BRADLEY MANNING NEEDS HELP, MAKING BREAD, BUTCHERING WILD CAUGHT FOOD, CATCH FOOD IN THE WILDERNESS, EVIDENCE ON CHEM-TRAILS, LEARN HOW TO DELIVER A BABY WITH VIDEO, SURVIVING COLD OR HEAT,
MOUNTAIN SURVIVAL, DESERT SURVIVAL, DIRECTION FINDING, , EARTHQUAKE SURVIVAL, EDIBLE MEDICINAL PLANTS, EVASION PLAN, THE MISSILE FILM 1958, CREATING FIRE, FIRST AID 901,, SURVIVING FIRE,FISH AND MOLLUSK DANGERS, GE FORD MOTORS BAYER AND OTHER AS NAZI TRAITORS, HURRICANE SURVIVAL,HYPOTHERMIA SURVIVAL, INSECT AND SPIDER DANGERS,TYING KNOTS AND HOW TO MAKE THEM, SURVIVING MUD SLIDES,
ABOUT TRADITIONAL MEDICINE, MEDICAL THREATS TO HEALTH,MEDICAL WORDS 901,MOUNTAINEERING, SURVIVING AVALANCHES,NASA ON MARS, ORIENTEERING, PLANET SELF DESTRUCTION,SEA AND OCEAN SURVIVAL, TRACKING ANIMALS AND HUMANS, THUNDER STORM SURVIVAL, TIDES AND NOAH WORLD WIDE, TOOTH AND DENTAL EMERGENCIES, TRAPPING FOR FOOD, TSUNAMI SURVIVAL, DANGERS OF VACCINATIONS/ IMMUNIZATION SHOTS -POISON, VOLCANO SURVIVAL, WATER CONSERVATION, WATER CROSSING OVER, WATER PURIFICATION, WATER BY SOLAR STILLS, WATER STORAGE,WEATHER LOCAL AND INTERNATIONAL,WILDERNESS FIRST-AID-,WORLD MAPS BY C.I.A. SINGING CHAKRA BOWLS FOR MEDITATION SURVIVAL, PAY PAL SITE, DR DAVID CLEVELAND, HOMEOPATHY provincetown,ma